berna clamps/assemblers for clamping or securing without harm
Welcome to the berna-clamps website©!
(pour le français, SVP cliquer sur le symbole FR situé en haut à droite)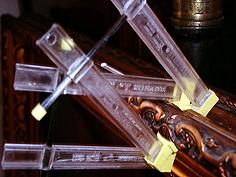 Mind!
Clamping or securing is no more as it was!

If you secure with any clamp a work that has been trusted to you for restoration, expect breakage, expect substratum deterioration and

dissatisfied

customers and as a result decline of your image.

In addition, you will have to do double job: first of all repairing the damages you caused by using an inappropriate clamp, then restoring the work. With some berna clamps (BERNA MultiClamps© or BERNA MightyHolds©), also known as BERNA or PSI Assemblers© - Miniatures and Masters -, you are not taking any risk of damaging it. Indeed, these tools constitute the unique

harmless and scarless system for easily and delicately clamping, assembling, holding and securing at the first try, delicate, fragile, light things and objects, even with curved shapes and ridges, Correlatively, set-up is very easy. One or two hands are enough to clamp, stabilize or spread on the first try, but sustainably, delicate objects, even protuberant ones, without any risk of marking and any risk of slipping. Even a single hand is enough when object size is small. Never seen before! You can clamp with even a minute amount of force and that holds. Exclusive skin-like springy buffers at the end of the jaws allow it. These devices lock automatically. To actuate them you simply need to put pressure with your fingers or hands on their jaw backs, near their beams. As soon as you stop applying pressure, the jaws instantly lock against the beam. You release them by a simple pull up of the jaw rear portion. A handle has never to be turned. They harmonize two until now opposing actions: holding firmly, whatever is the configuration, clamping, stabilizing and spreading, and conserving surface finish.You save time. Berna

Clamps are benefiting from 4 Trophies: 1) the Trophy for Innovation bestowed in 1991 by a French organization: the Academy of DIY and Gardening, trophy that can be considered as the Oscar of DIY. 2) the Museographical Innovation Trophy bestowed in 1993 during the International Show of Museographical Technical Equipments in Dijon city. 3) an European Patent granted in 1998 by the European Patent Office. 4) an United States Patent granted in 2003 by the US Patent and Trademark Office. Both patents have been granted with very protective and pertinent claims.
For more info, in particular about the superior quality of these devices made in France (unconditional guarantee) please click here and for having a look at the price of our products, please double click in the left-hand side menu on "Catalog" below "Store".
SATISFIED OR 100% REFUND.
-
© 1990 Philippe and Xavier Berna